Bleeds, Cut Lines, Margins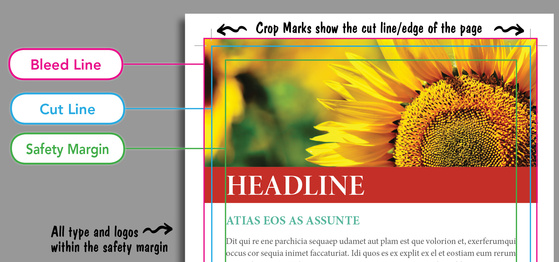 Setting Up Your Artwork: Bleeds, Cut Lines, and Safety Margins
For the best results, keep in mind:
Bleed Line: Artwork is extended past edge to the solid pink line.
Cut Line: The blue line shows the edge of the finished, printed document. This is where the image will be cut after printing.
Safety Margin: Remember?é?ánot to place text beyond the green line because it could get cut off in the trimming process.
What is a bleed?
Your items is printed on a larger sheet and cut down to size. If your item has background colors or images that stretch to the edge of the document and appear to "bleed off" the edge of the sheet, then we need those colors and images to extend past the edge of the finished item size.
The printing and finishing are automated so there is a tolerance, which means we need a some extra wiggle room to avoid white showing at the edge. This way we can be sure all your colors go to the edge of the document and look neat and professional.
How do I set a bleed on my artwork?
We like a 1/8 inch (0.125") bleed area on all sides of the document, with "crop marks" or "trim marks" used to indicate the finished dimension. Most graphics software programs like Adobe InDesign or Illustrator allow you to set the bleed area when you set up the page size for the new document. Canva has these functions as well! See the Canva Tips section below.
Make your page size the actual finished size of the piece.
When you go to save your final PDF for printing, make sure your PDF output settings include bleed and crop marks.
Note: If you are using Canva, there will be a box to check to add bleeds when you go to save your PDF for print. Bleed area and crop marks will be generated automatically.
Using Canva: Tips for Printing
Get professional results with Canva! If you're working in Canva and preparing a project for print, we recommend using a few settings to help ensure that no type is cut off, that your backgrounds "bleed" off the edge of the page, and everything is aligned and neat.
Additionally, when you're done you'll need to create a print ready PDF file that shows the crop marks and bleed area.
MARGINS
Show the margins to make sure that important design elements aren't cut when printed.
Go to: File / View Settings / Show Margins
BLEED AREA
Prevent unintended white edges when printing to the edge of the page by expanding your background.
Go to: File / View Settings / Show Print Bleed
USE RULER GUIDES
Measure and create guides to judge size of your graphics and keep them lined up for a neat appearance.
Go to: File / View Settings / Show Rulers and Guides
All done? MAKE YOUR PRINT-READY PDF
Select Share from the Menu Bar
Select Download
Select PDF Print from the File Type dropdown
Check the Crop Marks and Bleed checkbox
Select Download
Detailed instructions can be found here.
If you have any concerns with setting up your artwork please Contact Us? - we'll be glad to help.